An Excavator (hydraulic) is heavy construction equipment consisting of a boom, dipper or stick, bucket and cab on a rotating platform known as the "house". The house sits atop an undercarriage with tracks or wheels. All movement and functions of a hydraulic excavator are accomplished through the use of hydraulic fluid, with hydraulic cylinders and hydraulic motors. Excavator is the machine that can excavate the soil of various types forcefully and then using hydraulic system a hydraulic force is generated and utilizing this force bucket is pull back towards the machine. Bucket of excavator is replaceable.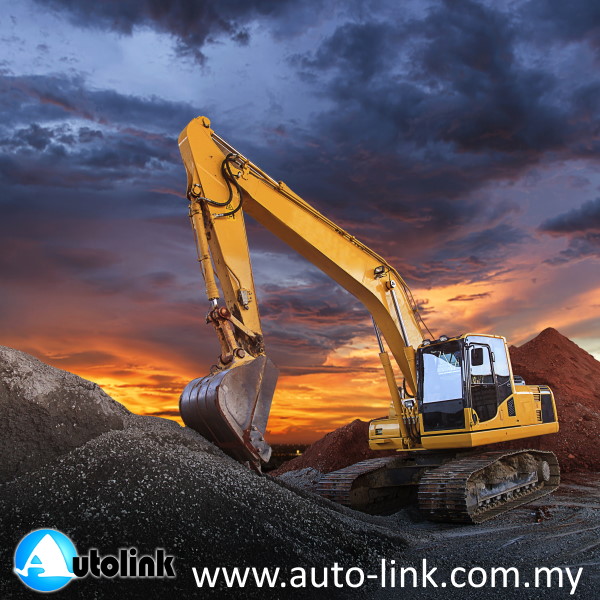 Excavator Type
Excavators are mostly used for digging of soils and
for loading dump trucks.  It is either of Crawler excavator
, Wheel
excavator and Amphibious Excavator.
Crawler excavator runs on two endless tracks (chain wheel
system). These types of excavators are used in
hilly areas where risks of sliding of machinery are on the verge. Crawler type
excavator has low ground pressure because of spreading of load on large area.
Therefore, it is also used where soil support is weak.
Wheel excavator runs
on wheels and are used for excavation and loading of dump trucks and most of
the time it is only used for plain ground operations. Because of wheel, it is
not suitable for hilly areas due to low grip value to the ground.
An amphibious excavator is a type of excavator that can perform dredging while afloat in shallow water. An amphibious excavator is better adapted for removing silty clay, clearing silted trenches, swampland operation, and shallow water operation than traditional barge-mounted dredgers.
How To Check Excavator Condition
It is advisable to check and conduct onsite inspection to
test on the machine's condition before you decide to purchase any machinery. It
is an essential pre-emptive measure to verify the condition of machine whether
it's in good working condition so that determination of machine value is
coincide with the state.
The effective way to recognize the current condition of the
machine is by physically checking alongside with technician team. You can
physically inspect a machine or you can request detail photos and video to
determine the condition.  Below are important factors that are VERY important to review:
Swing bearing - Swing the upper body to the left and right, again checking for hesitations. Brake during each rotation, and note the response.
Undercarriage – evaluate the rear sprockets and the track links, pins and bushings
Hour Meter – this is not a reliable indicator so always check the condition of the machine
Hydraulics – lower the boom, put the bucket on the ground and push down in order to raise the body of the machine
Controls and Electronics
Bucket – check for spillage, check to see if there are any patches and if the teeth are in good condition
Booms – check for any cracks or welds
Walking Motors – move the machine forward and backwards.  You can check them individually by swinging the boom to one side.  Lower the boom and raise the machine up.  You can then test the tracks forward and backward individually.
Turn Table:  check for movement.
Excavators are used for:
Digging of earth, Loading and dumping, Excavator during trenching, Excavating under water.
Hitachi Excavator
When you're looking for quality excavators, you know you can rely on Hitachi. Just like our large excavators, the medium excavators are known throughout the world to be well-designed, utterly reliable machines.
Hitachi is a
worldwide leader in the manufacturing of medium excavators, and we continually
strive to satisfy customer needs. A combination of extensive size range,
multiple applications, and localization enable Hitachi to offer more than 100
models, from 6 to 40 tons. Machines like the popular ZAXIS200 use Hitachi's
advanced hydraulic technology to allow for easy operation. The speed, power,
and durability of these machines give you increased productivity and reduced
maintenance costs. What's more, our excavators have long life because they are
well-balanced and the parts are assembled with engineering excellence.
A unique optional feature of these excavators is the Monitoring System. This is an IT function that allows machines to log equipment status, such as movement or pressure data, which can later be viewed on your PC. Using this system enables you to make fleet management easier. It improves productivity and profits, and can save you a lot of time. For More Hitachi Excavator Products Information
Komatsu Excavator
Komatsu hydraulic excavators are world class excavators built with the highest quality materials and superior craftsmanship. Komatsu excavators withstand some of the toughest working conditions due to unique casting designs and world class manufacturing processes. With up to six machine working modes, Komatsu excavators produce fast cycle times, effortless multifunction motions, precise bucket movements, and excellent lifting capabilities. Komatsu designs cabs with the operator in mind to provide the best and most comfortable cab environment available. For More Komatsu Excavator Product Information
Sumitomo Excavator
Sumitomo Heavy Industries commenced production of excavators in Japan in 1964, and now distribute their products all round the world. The Sumitomo range starts from a 7,090kg class unit and up to 80,000kg class excavators. Manufactured at the Chiba Works in Japan, the facility is designed for one purpose - to produce the worlds finest high precision & high quality excavators.  For More Sumitomo Excavator Products information
Website Link About Excavator
Hitachi Construction Machinery in Malaysia - https://www.hitachicm.com.my/
Komatsu General machine maker presenting business about construction -
https://home.komatsu/en/
Sumitomo Group company that manfactures and sells construction machinery - https://www.sumitomokenki.com/